Inside: These AMAZING vinegar cleaning hacks will get your house cleaned fast and without chemicals. Check out the ultimate list of vinegar cleaning hacks.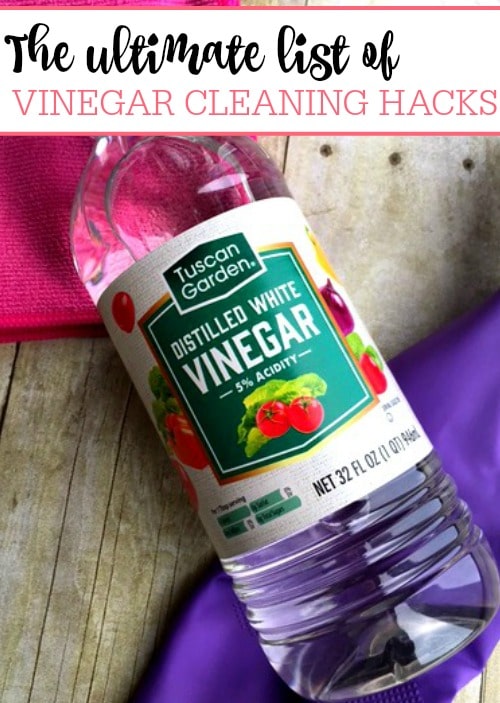 Vinegar is one of my favorite go to cleaning products. It may not smell good but I am always blown away by what a great job it does at cleaning. Vinegar is a fantastic disinfectant, it can deodorize, plus it cuts through grease. You can use it to get rid of hard water, wax on clothes, even weeds! If you haven't been using vinegar as a cleaner you are really missing out. If you want a cleaner home and spend less money you will love the ultimate list of vinegar cleaning hacks.
These vinegar cleaning hacks will help save you time and money. Spend less time cleaning and less money on cleaning products. I like to pick up a bunch of the large white vinegar jugs when they go on sale around Easter. Then I have enough vinegar to last me all year long.
The Ultimate List of Vinegar Cleaning Hacks
Lemon Vinegar Cleaner
If you are looking for a basic vinegar cleaner this lemon vinegar cleaner is the one for you. I love to let vinegar and lemons soak for two to three weeks. Then you can mix the liquid with water to make a great cleaner. This is perfect if you can't stand the smell of vinegar.
Jewelry Cleaner
Vinegar works wonders on cleaning rings and jewelry. I just let my rings soak in this homemade jewelry cleaner for about 10 minutes and then wash them off. They are so much cleaner!
Clarifying Hair
Some people swear by vinegar for their shampoo every day. I like to use it once every couple of months as a clarifying treatment. My hair looks much shinier after using it. You can easily clean your hair with vinegar. I recommend mixing it half and half with water and then pouring it over your head. I only let it sit for a minute or two before washing it out. It cleans out all the buildup that is in your hair.
Fabric Softener
Add 1/2 cup vinegar to the fabric softener dispenser in your washing machine. It will make your clothes so much softer and you won't need to use the dryer sheets. If you are concerned about the smell in your clothes you can try this simple DIY fabric softener.
Floor Cleaner
Vinegar can be a fantastic floor cleaner. Not only does it disinfect, but it will also help loosen up any grease and grime. This homemade floor cleaner does a great job of cleaning vinyl and tile floors. I would skip cleaning the hardwoods with this cleaner though.
Clean A Diffuser
Do you like to use an oil diffuser? Check out this simple tip on using vinegar to clean a diffuser.It does a wonderful job of getting all the gunky oils out of the diffuser.
Get Rid Of Odors
If you have a room with a bad odor in it you can use vinegar to get rid of the smell. Just set out a bowl of vinegar for a few hours and the smell will be gone. You can also use a drop or two of lemon juice in the bowl if you want. This is one of my favorite vinegar cleaning hacks.
Clean Shower Doors
I hate dirty shower doors, but I hate scrubbing things even more! I was so excited when I discovered this no-scrub way to clean your shower door with vinegar. It takes some time but is great to get your shower doors clean with zero scrubbing.
Sweaty Clothes
Tired of clothes that smell like sweat even after washing them? Try this simple tip to get the sweat smell out of clothes. It works great on my teenager's sweaty workout clothes!
Get Out Wax
If you ever end up with wax on your clothes vinegar, dish soap and hot water can get it out. I couldn't believe it, plus it only takes 1/2 cup of vinegar. You can see how to get wax out of your clothes here.
Clean A Shower Curtain
If you have mold or mildew on a shower curtain you can use vinegar to get it out. Check out how to clean a vinyl shower curtain with vinegar. The best part is you can do in a washing machine so you don't make a big mess!
Clean Front Load Machine
My sister was dealing with a smelly washing machine that left her clothes smelling funky too. I was so excited when I learned this easy tip on how to clean a front load washer.  I was amazed at the difference it made. Vinegar really helped get rid of the mold and mildew to get it smelling great again.
DIY Weed Killer
Ok, it may not be one of the best vinegar cleaning hacks because it doesn't really clean, but vinegar works great as a DIY weed killer. Just pour some in a spray bottle and apply to weeds. Make sure you don't get it on a plant or grass that you don't want to kill. It will easily kill off the grass. I like to use it for the driveway and sidewalk cracks.
Clean Toilet
We have really hard water where I live, luckily I have realized that vinegar is a lifesaver when it comes to dealing with hard water. You can easily remove hard water stains from the toilet with this simple vinegar cleaning hack.
Glass Cleaner
Instead of using Windex you can make your own window cleaner. I swear by this homemade glass cleaner. Spray on the windows and wipe them off with a microfiber cloth. The windows are sparkly and clean.
Remove Hard Water
Similar to removing the stains from the toilet is a trick to remove hard water stains from glasses. I love this easy vinegar cleaning hack and use it frequently.
Wash Produce
The house isn't the only things that need to be cleaned. You also should clean your produce. It's one of my favorite vinegar cleaning hacks. It only takes a few minutes and gets off any dirt or grime from your fruits and veggies.
Clean Smelly Water Bottles
Left something in your water bottle and have a bad smell now? Check out how to clean smelly water bottles. The vinegar helps get rid of any of the smell in the water bottle. It's easy and will save you money.
Clean Shower Head
If you have hard water on your faucet or shower head you can easily remove hard water from the shower head or faucet with vinegar. It is easy and you will get much better water pressure after using this vinegar cleaning hack.
Remove Mildew
Maybe it's because I have a swimmer, but this tip to remove mildew smell from clothes is one of my favorite vinegar cleaning hacks. I am constantly using this tip on towels and clothes that set for too long in the locker room.
Clean A Keurig
Keurigs are awesome for making a great cup of coffee quick. Unfortunately, they often need to be cleaned. Check out this great vinegar tip on how to clean your Keurig.
Clean A Clogged Drain
Clogged drain? Try vinegar and baking soda as a DIY drain cleaner. It's easy and you most likely have everything you need at home. No special trip to the store to get rid of a clogged drain.
Clean Your Windows
I love shiny & clean windows. One trick I have learned is to clean your windows from the outside. This easy vinegar cleaning hack will get your windows spotless looking in no time.
Clean The Washing Machine
Although you don't need to clean a top load machine as often, you still do need to occasionally clean the washing machine. Vinegar will help clean the washing machine so it looks like new again.
Clean The Microwave
If I don't regularly clean the microwave it becomes a nasty mess. Food stuck all over the walls. You can easily clean the microwave using vinegar with this simple trick.
I hope you enjoyed some of my favorite vinegar cleaning hacks. There are so many great ways to use vinegar around the house. What are your favorite vinegar cleaning hacks?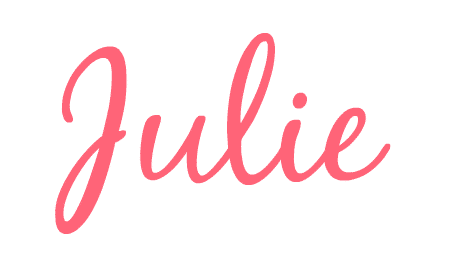 P.S. For more cleaning tricks and frugal tips delivered to your inbox subscribe
here!
---