Inside: Want an easier way to clean? Skip these cleaning hacks and take the time to do it right. Check out these 6 viral cleaning tips that don't really work.

I absolutely love Pinterest because of all the good ideas I can find while searching there. I can find amazing recipes, garden tricks, and plenty of cleaning tips.
If you have been following me for long on Frugally Blonde you know I love a good cleaning tip. But, really who doesn't? I mean why spend hours scrubbing away when you can use a cleaning hack that easily cleans without scrubbing and a lot of hard work.
Over the years I have tried a lot of the cleaning tips and tricks I have seen on Pinterest and although a lot has worked there are a few that have completely failed for me. It's funny to me that even though they fail I continue to see them all over Facebook and Pinterest.
I thought it would be fun to put together a list of viral cleaning tips that don't really work. I will also share what solution I used instead. Check out these 6 viral cleaning tips that don't really work.
Coke in the Toilet
I am guessing just about everyone has seen the Coke in the toilet trick. You pour a couple of cups of Coke into your toilet, swish it around, and let the Coke sit for a couple of hours or overnight. Supposedly the acids in the Coke will eat away at any hard water or limescale build-up.
I got to try this trick in my son's bathroom. He apparently didn't think cleaning the toilet bowl was part of cleaning the bathroom. So the toilet was a hot mess. I was so excited to try it because really who wants to scrub a toilet?
Unfortunately, this one really let me down. Not only did the Coke not do anything to get it clean but the coloring from it soaked into the hard water making the stain look even worse.
I know I am not the only one who didn't have good luck with this trick because when I went to some cleaning forums to find a solution plenty of people there had the same problem.
If you are looking for a solution for hard water build up in your toilet you can try my trick for cleaning toilet stains. It's not as easy as dumping Coke into the toilet but it is a no-scrub method so you don't scratch your bowl.
Lemon and Salt in the Shower
Another regular cleaning tip I see on Pinterest is the lemon and salt on hard water trick. Cut a lemon in half and pour some salt on the lemon. Then gently rub the salty lemon over your bathroom fixtures or shower door to get it free from water spots.
I really wanted this to work because our shower door and fixtures get a lot of water spots on them. Unfortunately, it really didn't do much for the fixtures or the shower door. Maybe if you barely had any water spots it would help get them off, but it wouldn't be my go-to solution.
I instead started using a lemon vinegar gel. It smells great and the gel helps it stay in those vertical areas like faucets and shower doors.
Kool-Aid in the Dishwasher
Kool-Aid in the Dishwasher is one I see often on Pinterest. Just pour a packet of lemonade Kool-aid in your dishwasher and have it run through a regular cycle with no dishes. When you open it the dishwasher will be clean.
This one really makes sense because lemonade flavored Kool-aid does contain citric acid. However, I didn't have any luck with it. I tried it once with one packet and then another time with two.
I finally switched over to using straight citric acid and this did the trick. You can pick up a large bag of citric acid at most stores for under $5 and there are so many great uses for it. If you can't find it in the store you can also pick it up on Amazon. I also like to use citric acid to make homemade Lemi-Shine.
Pumice Stone on Hard Water Stains
Pumice stones are great for keeping the bottom of your feet smooth and free from dead skin. But when I tried the pumice stone on the hard water stains I had some problems.
I've seen everything from the pumice stone in the toilet to a pumice stone around the faucet area of your sink to remove the hard water. When I tried it out I ended up scratching my sink up.
It removed the hard water, but it also removed part of the sink. Since I didn't want to tear up my toilet I skipped trying it there, but I am guessing the results would be the same.
If you are dealing with hard water around your sink or faucets instead I recommend trying the lemon vinegar gel. It will easily cling to those areas around the sink faucet.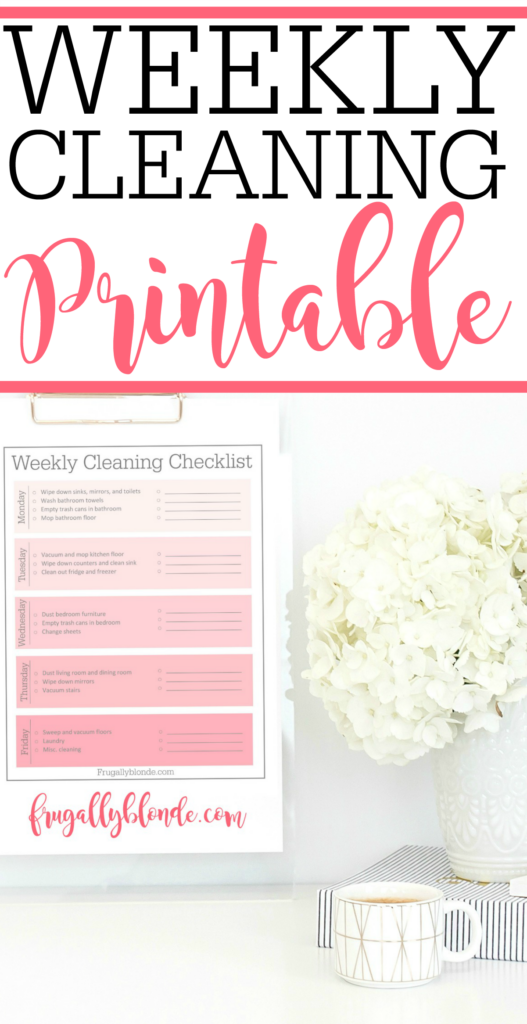 Free Weekly Cleaning Printable
Clean your home in under 30 minutes a day with this free Weekly Cleaning printable!
Mouthwash in the Washing Machine
With all the problems with front load washing machines, I am not really surprised about this one. The washing machine can often start smelling bad. So, the cleaning tip recommends pouring in a cup or two of mint mouthwash to clean your machine.
It may make it smell better for a load or two but it isn't actually going to clean it. In fact, it just made my washing machine look dirtier.
Skip the mouthwash and spend a little more time to really get your washing machine clean. If you have a top load check out these simple tips. If you have a front load washing machine I have these step by step directions. Plus, a simple tip to keep the smell gone.
Cleaning Tupperware Stains
A few years ago I wrote about one of my big Pinterest fails, cleaning stained Tupperware. I had multiple plastic containers with food stains on them. I tried making a paste of baking soda and water which didn't work. I tried rubbing it with a lemon and it didn't work.
I ended up slowly replacing the worst ones with a different kind of food storage container that doesn't seem to stain.
I always have fun trying new cleaning tips and tricks that I learn. It's always fun to think there might be some easier way to clean the house out there. Some cleaning hacks work and some don't.
What about you? What viral cleaning tips or tricks have you tried that don't really work?
Free Weekly Cleaning Checklist
Clean your home in under 30 minutes a day with this free weekly cleaning printable