Does your coffee have a funny taste? When was the last time you cleaned your Keurig? Try these easy steps to clean your Keurig.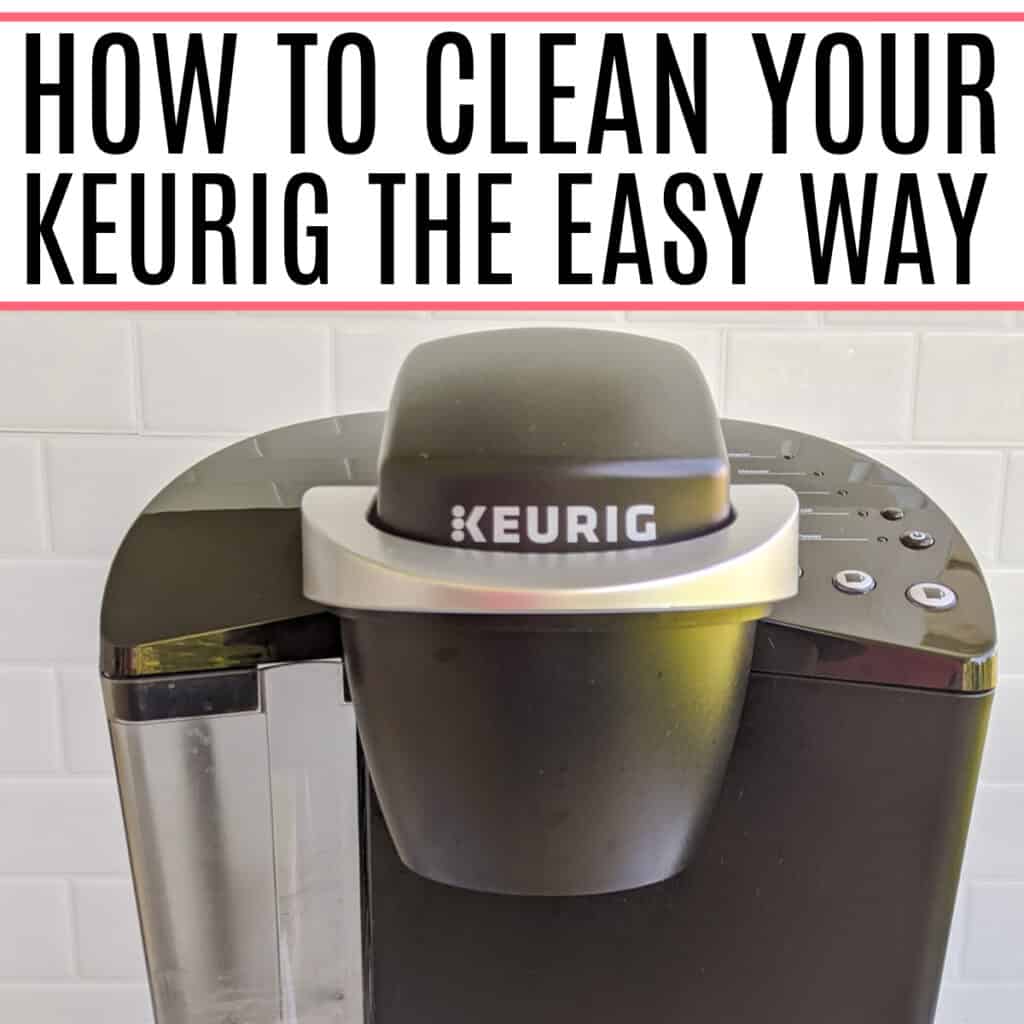 Even though I am not a big coffee drinker, I love having a Keurig. We don't use it every day, but it is great to pull out when family or guests come over. I can make coffee, tea, or any other warm drink they would like.
The problem is when I pull out the Keurig and it has those rings around the water container. It reminds me of my fishbowl when I didn't clean it often enough. Gross!
Luckily you can easily clean and descale your Keurig with these simple Keurig cleaning hacks.
Easy Ways To Clean Your Keurig
There are 2 easy ways to clean your Keurig. You can use vinegar for a cheap and easy Keurig cleaning hack or you can use a descaling kit that is made by Keurig.
Personally, I have used both and haven't noticed a large difference. Because it is much cheaper to use the vinegar cleaning hack I tend to stick to using it.
But, if you would rather use a Keurig-approved kit I highly recommend this one on Amazon.
Either method works great to clean and descale your Keurig.
How To Clean A Keurig With Vinegar
So, I love this easy way to clean your Keurig. It doesn't take much time and it makes the drinks taste so much better.
Start by filling up the water container on the Keurig with vinegar. I like to fill it to at least halfway, but make sure the vinegar covers your water rings. Then let it sit for about 20 to 30 minutes.
While the vinegar is sitting, get a cloth and pour some vinegar on the cloth. I just use a microfiber cloth to prevent lint from getting in the Keurig.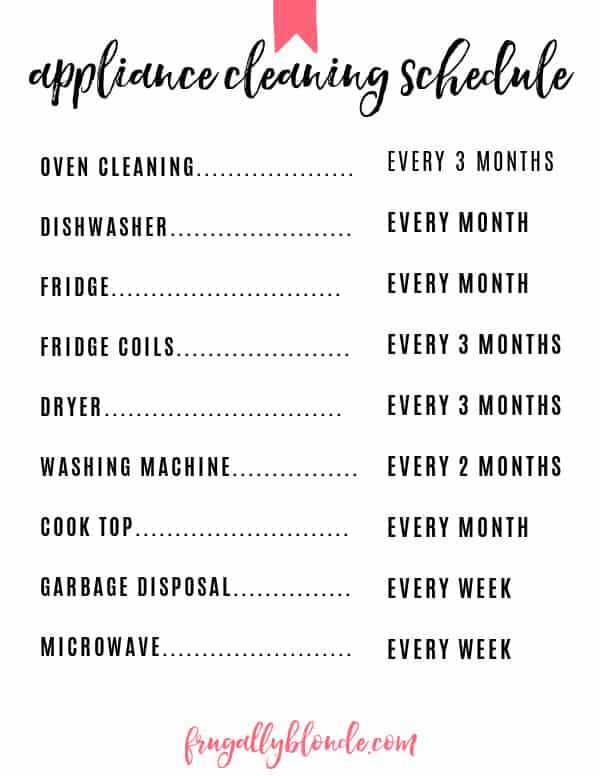 FREE Appliance Cleaning Schedule!
Keep your appliance clean with this easy appliance cleaning schedule!
Wipe down and clean your Keurig on the outside. I usually get some buildup where the water container attaches to the Keurig. Wiping it down with vinegar helps get rid of it.
I also recommend cleaning your Keurig inside where the k-cup goes. There is usually lots of coffee and tea powder in it so use a cloth to wipe it down. But, be careful of the spike at the top!
After letting it sit, place a large cup below and run a large cup cycle. The vinegar will run through it and clean your Keurig out. The vinegar will probably look pretty gross.
Dump out the cup and run one more large cup cycle. The second time through the vinegar looks much cleaner.
Then pour out the remaining vinegar and rinse it out. Use a damp cloth to scrub out the inside. All of the water rings should be gone.
Fill up the water container with more water and run another two large cup cycles through. This should be enough to clear all of the vinegar from the Keurig.
Not only will your drinks taste better after getting all of the leftover coffee and tea off, but your Keurig will look better too.
How To Use A Keurig Cleaning Kit
Cleaning your Keurig with a cleaning kit is pretty easy. You can get a Keurig-approved kit at the store or grab this one on Amazon.
To get started you want to turn the Keurig off. Remove any water filters you have in your Keurig.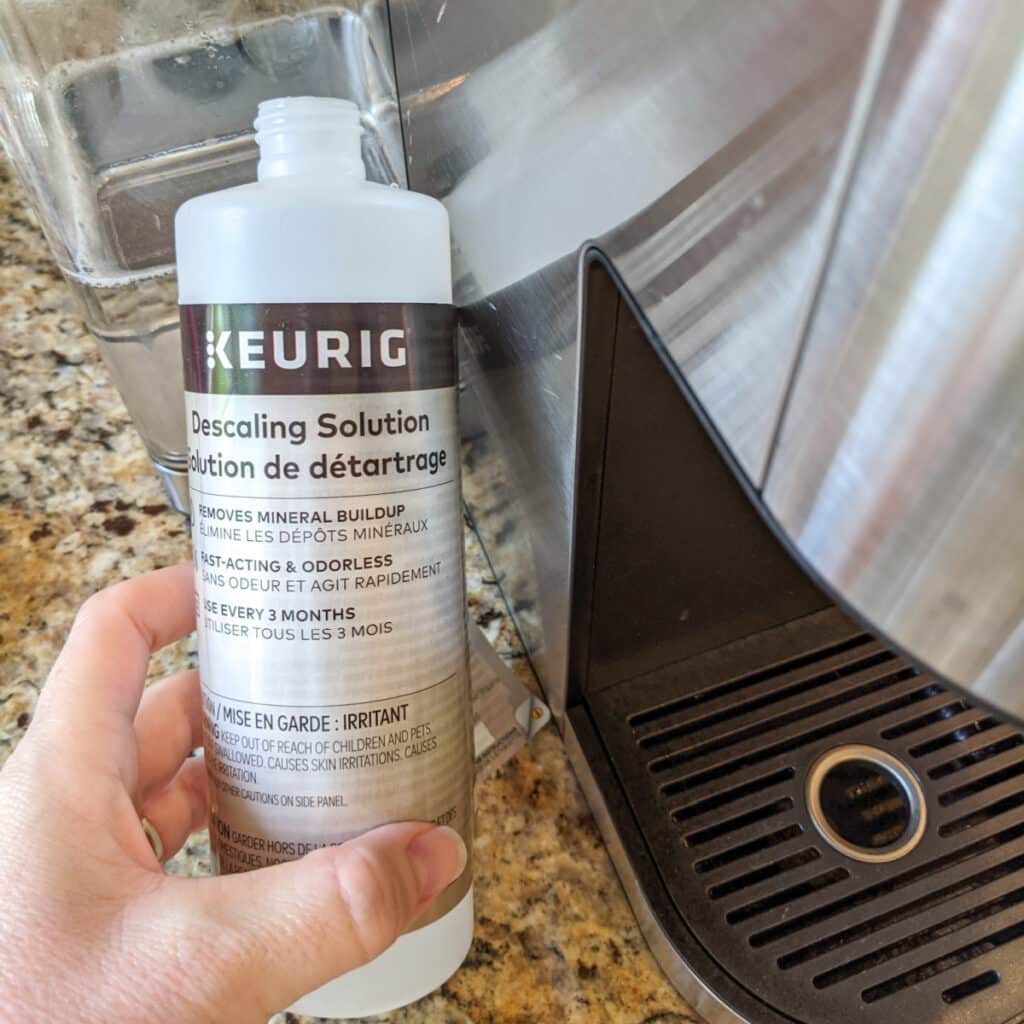 Then pore the descaling solution into the Keurig where you normally add water. Refill the solution bottle with more water and dump that in too.
Turn the Keurig back on and run a rinsing brew making sure you have a cup or mug below to catch the water. Continue to run a brew until the water light turns on.
Once your add water light is on then set a timer for 30 minutes and let the Keurig soak. This will allow the descaling solution to sit in the machine and remove the hard water build-up and any limescale.
After 30 minutes then dump out any remaining solution and thoroughly wash out the water container.
Once you have washed the water container you will want to refill the container with fresh water and continue to run a rinsing brew to remove the descaling solution from the Keurig.
Keurig recommends running 12 brews of water through after using the solution so you may have to refill your water container.
Once you have run all the freshwater through you can replace your Keurig water filter and wipe down the outside of your Keurig.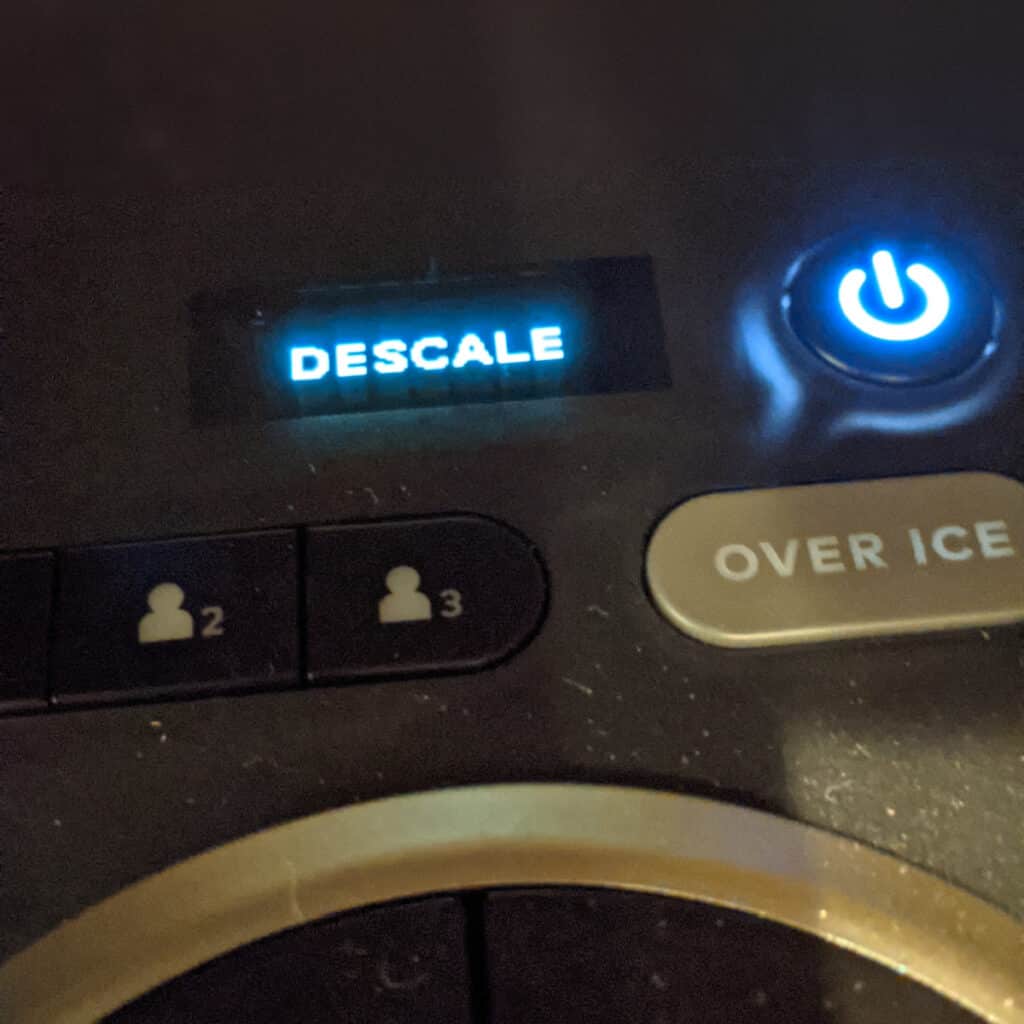 If you clean your Keurig and you can't get the descale light to go off there is an easy trick. Just hold down the 8 oz. and 10 oz. buttons at the same time for 5 seconds and it will reset the descale light on the Keurig.
Cleaning your Keurig is a simple task that only takes a little while. Try to clean your Keurig every few months for the best results. Looking for other cleaning tips? Check out the easiest way to clean your food processor.