Inside: Stains or dirt on your electric blanket? Check out this simple tip on how to wash an electric blanket. You can clean it in the washing machine or by hand.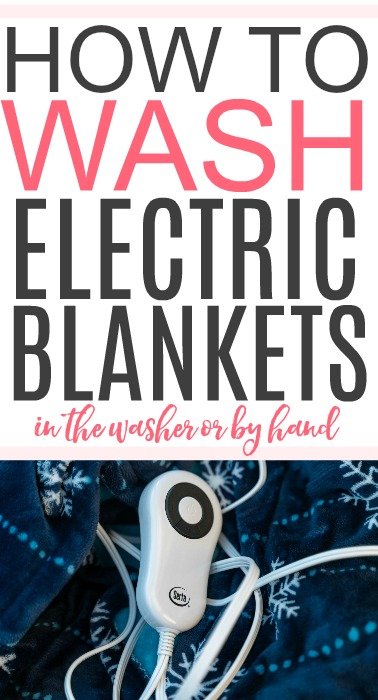 If you know me very well in real life you know I love my dogs! I have a chihuahua and a german shepherd that are like my babies. My chihuahua loves car rides and goes just about everywhere with us.
The one thing I don't love about my dogs is the mess that they make. They track in mud, shed everywhere, and of course, there is the occasional accident.
Because of how dirty they are I end up washing things like sheets and blankets WAY more than I would if we didn't have dogs.
This also includes electric blankets.
You may not think of regularly washing your electric blanket, but it does need to be done.
It's not that difficult to do, even with the wires in it. With a little bit of time, you can wash your electric blanket and have it free from stains and dirt.
Check out these tips below on how to wash an electric blanket to get it clean again!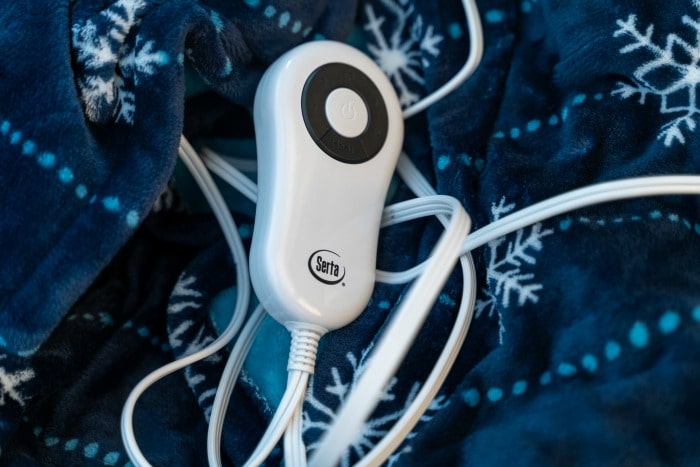 How To Wash An Electric Blanket
Washing an electric blanket doesn't have to be a big deal. You can easily wash it in the washing machine, or you can wash it by hand.
In my opinion, it is way easier to do in the machine.
To start, you need to unplug the electric blanket and disconnect the plugs and cords from the blanket. You do not want to get the heat controller wet.
Then, spot treat the blanket if it has any stains on it. You can use any brand of stain remover on it.
Next, start the washing machine on the cool water cycle. I recommend using the gentle cycle too so you don't tear up any of the wires inside the blanket.
Once the machine is filled up add the detergent and the electric blanket. I highly recommend using a detergent for delicates when you are washing your electric blanket.
You will want to use a detergent that is made for delicates so your electric blanket doesn't get misshapen in the machine.
I use Woolite for delicates on some clothes, but recently I have been using The Laundress Delicates Wash. I love the scent of the detergent and it does a great job of getting out the oils without damaging the fabric.
If you have a front-load machine just run it on cool gentle cycle as you normally would.
Let the machine agitate for a minute and then stop it and let it soak for about 5-10 minutes.
Once it has soaked turn the machine back on and let it run like normal. The gentle cycle will get the grime and stains out of your electric blanket without tearing up the cords.
If you would prefer to wash your electric blanket by hand instead you can do that too. I have done this many times in an apartment, and I just use a clean tub.
Fill the tub up about halfway with cool water. Add detergent to the tub water and agitate the water to mix in the detergent. Again, I recommend using a detergent for delicates.
Next, add your electric blanket to the tub water and move it around until it is fully submerged underwater.
Let the blanket soak for about 15-20 minutes. After at least 15 minutes has passed then start to wash the blanket in the tub.
You will want to gently agitate the blanket for a few minutes. Then, drain the water from tub and gently wring out the electric blanket.
While the electric blanket is still in the tub fill the bathtub back up with water. Swish the blanket through the water to help rinse the soap from it.
Then, drain the tub water and gently wring the blanket again. You may want to repeat the rinsing process again if you feel like there is still soap in the blanket.
Once you have wrung most of the water from the electric blanket you can move on to drying the blanket.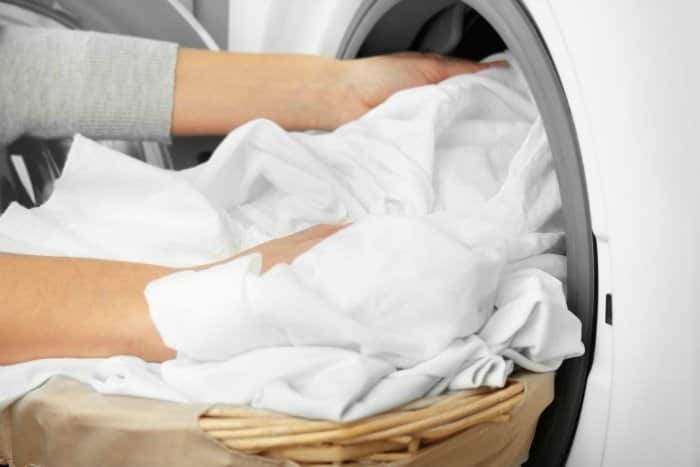 Drying An Electric Blanket
Once you are done washing the electric blanket you can remove it and put it in the dryer.
I recommend drying it in a dryer instead of air drying for a number of reasons.
First of all, you can't line dry an electric blanket because you aren't supposed to use clothespins on it or fold it over a clothesline. Either thing can damage the cords of the blanket.
I also don't recommend air drying by laying it out because it could take too long to dry. Anything that takes too long to dry can cause mildew.
Drying your electric blanket in the dryer can be noisy, but it is the best way to do it.
It's usually best to dry it in the dryer on low heat. You don't want to have too much heat on the blanket or else it can damage the wires in the electric blanket.
If you have wool dryer balls you can toss those in with the blanket to help it dry faster.
Set a timer for about 30 minutes and check on your electric blanket.
It tends to roll up in a ball while in the dryer so you most likely will need to take it out of the dryer and fluff it and then start the dryer again.
Keep checking on it about every 30 minutes until it is dry. You will want to make sure your electric blanket is 100% dry before you plug it back in.
If the blanket is wet or the control plug-in is damp it could ruin your electric blanket.
Once your electric blanket is dry then you can either put it back on your bed or put it away for summer.
I recommend washing it at the beginning of the season before you put it on your bed, at the end of the season before you put it away for summer, and as needed.
With these simple tips on how to wash an electric blanket, you can keep your blanket clean and working well for years. No more stains or grime on the electric blanket.
Want some other easy tips? Check out how to wash dry clean clothing at home to save some extra money. It's easy and saves you some time.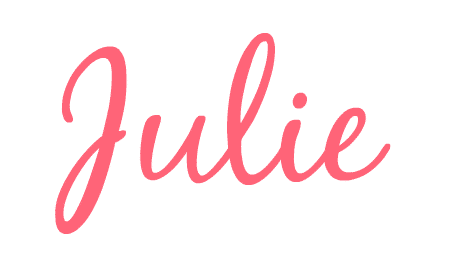 P.S. For more cleaning tricks and frugal tips delivered to your inbox subscribe
here!
---