Inside: Is your hairbrush covered in hair? It's so easy to clean the hair and hair products from your brush. Check out these easy tips on how to clean your hairbrush.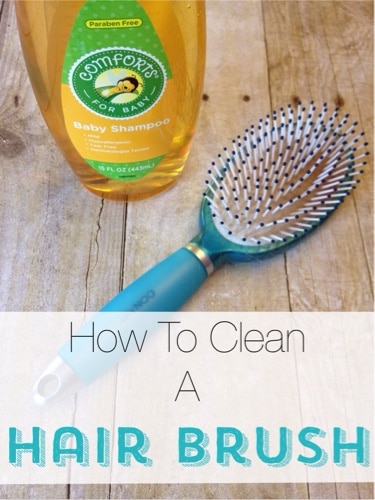 Do your hair brushes get dirty and gross? Mine tends to get coated with hair and sticky from the products that I use in my hair. Because I have such fine hair I tend to use a lot of products like hairspray and volume powder that really make my brush sticky. However, it's easy to clean out a hairbrush and get all the sticky gunk off. Check out how to clean your hairbrush below.
It is best to cut out the hair from your brush. I used to pull it out with a comb, but then I noticed I was losing the caps off of the bristles that way. It's easy to cut and gently remove the hair.
I fill up the sink with warm water and then add a cap full of baby shampoo. I swish the brush around in the sink to really mix up the shampoo and then let it soak in the water for about 10 minutes. This helps get rid of all the sticky hair products and any leftover hair stuck in the brush.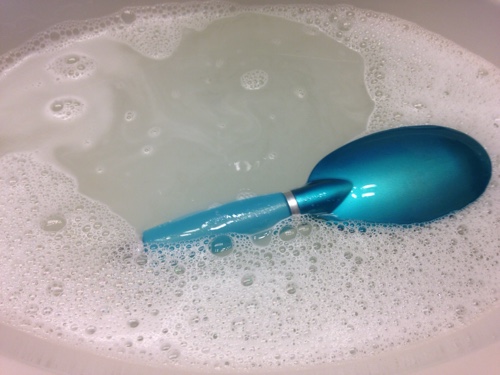 After about 10 minutes I just rinse the brush out under warm water. If the brush still has hair product on it you can use an old toothbrush to scrub any product off. Usually soaking and rinsing gets everything off for me.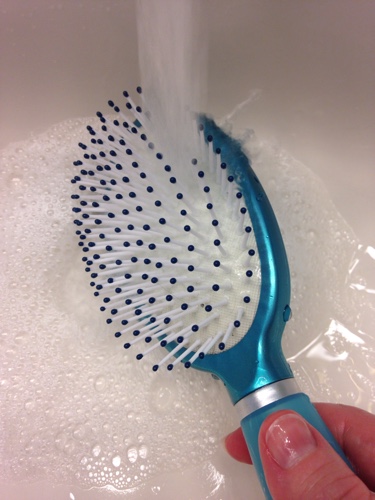 Let your hairbrush sit out for a couple of hours to completely dry and you're done. I love having a clean brush without all the hair and sticky hairspray on it. Check out what a difference it makes.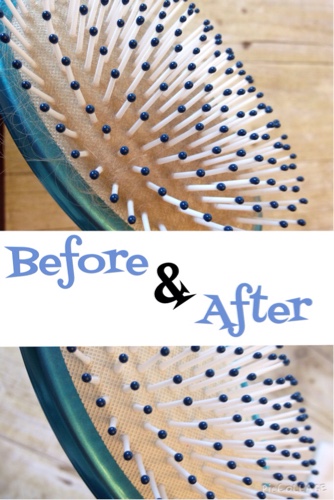 It feels so much better to use a clean brush than a dirty, sticky brush. The best part is it only takes a few minutes to clean it. Want to check out some other things you can easily clean. See how to clean makeup brushes at home. It will help them last longer.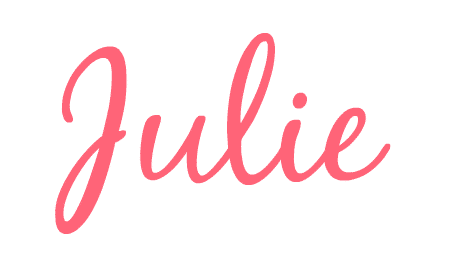 P.S. For more cleaning tricks and frugal tips delivered to your inbox subscribe
here!
---