Tomorrow is Earth Day so I thought I would do a post on old or broken items you can still use. We all have those things we don't want to throw out. Instead of tossing them, find a way to repurpose them. I am amazed at what you can find on Pinterest. I love the ideas for old canning jars, spoons, and other household items. Check out these genius ways to repurpose old or broken items.
Broken Chalk
Chalk is a natural moisture absorber. You can put those little broken or leftover pieces of chalk to work around your house. Put them in with your silver to keep the silver from tarnishing. Add some leftover pieces of chalk to a musty smelling closet to get rid of the smells or add chalk to a metal box to keep it from rusting.
6 Pack Carrier
Turn that 6 pack carrier into a condiment station for summer. You can add ketchup, mustard, salt, pepper, napkins, and silverware. It's easy to grab it and bring everything outside for a summer barbecue.
Wooden Spoons
If you have wooden spoons that are too gross to use for cooking anymore you can reuse them as garden markers. I love how cute these wooden spoon garden markers are.
Tissue Boxes
You can repurpose old tissue boxes by using them to store old grocery bags. We love to save all of our old grocery bags to use as trash bags and to pick up after the dogs. Storing them in old tissue boxes helps keep them all together and you can easily just grab one bag.
Shower Cap
Use those free shower caps you get at hotels to keep shoes in when you are traveling. I always cringe when putting shoes in with clean clothes in my suitcase. You can just put both shoes in the shower cap and then put the shower cap in the suitcase. It helps keep your clothes from getting dirty.
Contact Lens Container
Almost every box of saline solution comes with a new contact case. So what do you do with all of them? You can put your old ones to work when you travel. Fill them with a small amount of lotions or soap. Or you can also use it as a weekend pill container. Each side will hold around 3-4 pills, just the perfect amount for a weekend getaway.
Condiment Bottle
You can save those old condiment bottles from ketchup and mustard to use for pancake or waffle batter. Just wash out the old containers and fill them up with your favorite recipe. Then you can store the batter in the fridge for around 1 week. Just pull out the bottle and use how much of the batter you want. It's an easy way to store the batter and a great way to get the perfect sized pancakes.
Old Food Containers
Plastic containers like crystal light containers, plastic creamer containers, and old peanut butter jars make perfect snack containers when you are on the go. You can fill them up with goldfish, pretzels, or popcorn. It's a perfect way to repurpose them.
Candle Jar
Repurpose those old candle jars. You can clean out the wax and use them to store q-tips, cotton balls, or other small household items. It looks nice and it was completely free! See how to easily remove the wax from the jars here.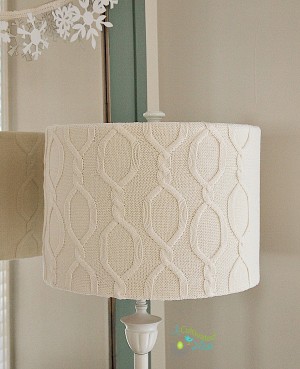 Sweater
Take that old sweater you love and turn it into a lampshade. This DIY Sweater Lamp is adorable and is an easy no-sew project. This would be perfect for a sweater that no longer fits or has a small stain.
Before you throw something out check out pinterest for great ideas on how to reuse or repurpose something! There are so many clever tips there. What is your favorite tip on repurposing items?