Tired of all the clutter? Check out these things to declutter right now. These won't miss items will help clean up your home and clear out the clutter!
Do you ever feel like your home is cluttered, but you don't know where to get started on decluttering? I completely understand.
I often want to get started on decluttering a room and yet I don't even know where to begin. It's easy to look in a room and get completely overwhelmed with the idea of decluttering. You start to wonder what you should be decluttering.
One of my favorite books Real Life Organizing talks about doing a 21 item toss. This is a great way to get in the mindset of decluttering. Just take a trash bag and walk around your home to find 21 things to throw out. It doesn't have to be large things, usually, I can find an old receipt or some trash laying around.
If you can't find 21 things that's fine, it's just an easy way to help you get in the decluttering mindset. After doing the 21 item toss you can start finding some easy wins with decluttering. Check out my favorite things to declutter right now and get your home free from clutter.
Things To Declutter Right Now
Things To Declutter From The Kitchen
Tired of all your cabinets being stuffed full? The kitchen tends to gather so many different appliances and tools that we don't always use. Giving it a quick decluttering will help free up some space and allow you to organize what you do use. Once your drawers are clear of clutter you can organize them. Check out how I easily organize kitchen drawers.
Old cookie cutters
Unused cookbooks
Expired seasonings
Containers without lids
Stained food containers
Refrigerator magnets
Takeout menus
Unused small kitchen appliances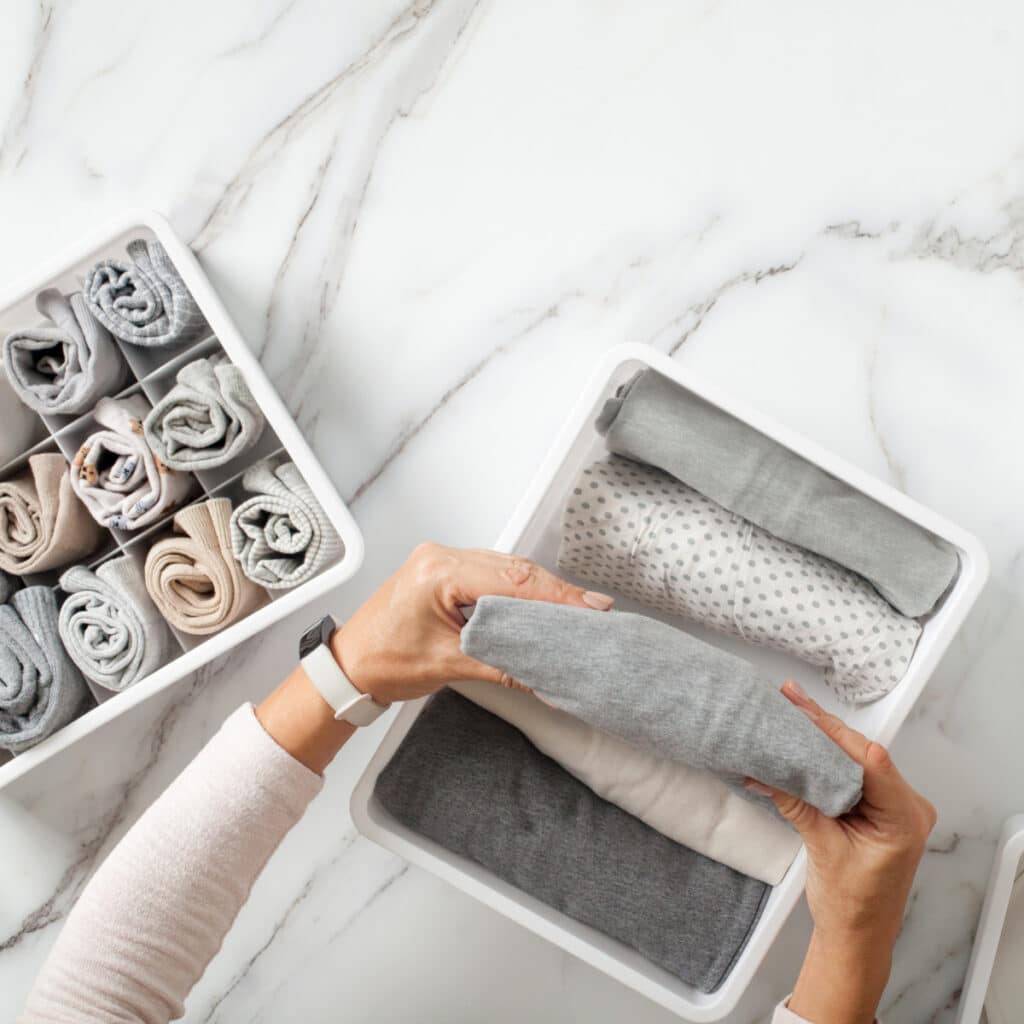 Tired of clutter?
Sign up for the free 7 day decluttering challenge. Create a clutter-free home you will love!
Things To Declutter From The Bedroom
The bedroom seems to be a catch-all area in our house. Clean it up and give yourself an organized area to relax at night. Free up some space in and on your nightstands and dressers to have a clean and organized room.
Books you don't read
Jewelry you no longer wear
Clothes that don't fit
Shoe boxes
Socks that don't match
Knick knacks you don't like
Things To Declutter From The Bathroom
The bathroom can be easily cluttered with those old products we don't like but hate to get rid of. Get rid of expired and things you don't use so you can organize and enjoy what you do use every day.
Expired makeup
Old sunscreen
Expired Medication
Worn out towels
Old nail products
Things To Declutter From Closets
Clear out some extra room in your closet and make some space for what you love. Declutter those things you never use and don't need. Things are easier to find and organize when you get rid of those things you don't use anymore.
Clothes that don't fit
Metal hangers
Unused purses/wallets
Torn up luggage
Accessories you don't use
Things To Declutter From Office & Living Room
Clear the clutter from your living room. Get rid of old magazines, DVDs, and CDs. If your kids keep toys and supplies in the living room declutter their stuff too. If you have a home office take a few minutes to throw out old receipts and calendars that you no longer need.
CD's
DVD's
Magazines
Books you don't read
Dried out pens and markers
Kid's toys that aren't used
Old receipts
Last year's calendar
Old power cords
Things To Declutter From Garage
Our garage is often filled with things that don't have a home and projects that we don't have time to work on. If you want more room in your garage check out these things to declutter.
Old sporting equipment
Old paint that you don't use
Exercise equipment you don't use
Outdated chemicals and sprays
With these easy ways to declutter, you can start freeing up some space around your home. It's amazing how nice it feels to have a clean and decluttered home.
If you still need some easy decluttering tips you can sign up for the free 7-day decluttering challenge. Once a day for 7 days you will receive an email with an easy 15-30 decluttering task. At the end of 7 days, your home will feel less cluttered. It's an easy way to give your home the attention it deserves.
Join the Decluttering Challenge
Subscribe (free!) to my newsletter and take the FREE decluttering mini-course to declutter your home and find your sanity!