Tired of rust stains in your bathtub? Check out how to remove rust stains from bathtubs and showers. No bleach or heavy scrubbing is needed with this easy bathroom project.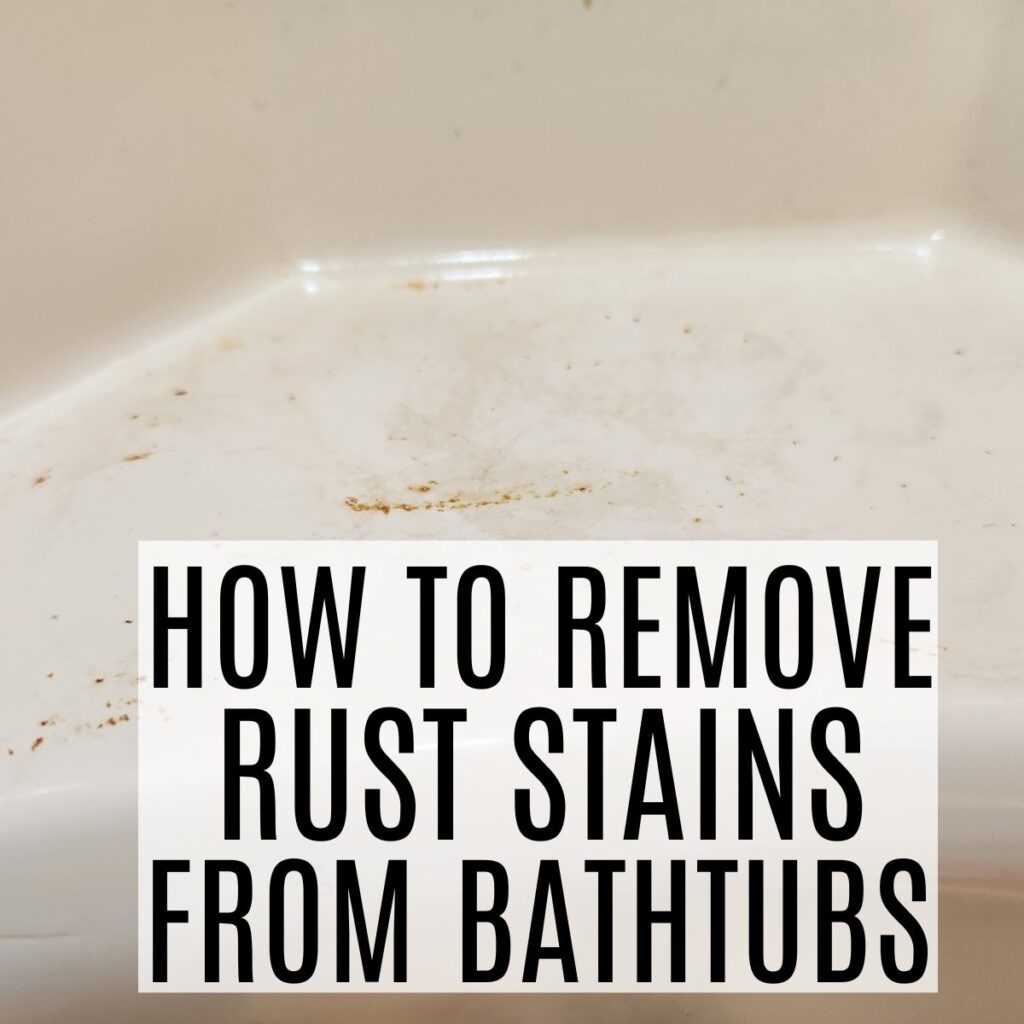 A few weeks ago I was cleaning my son's bathroom and realized last time he was home from college he left a can of shaving cream in his bathtub.
The shaving cream bottle had gotten wet and had left rust stains on the ledge.
I wanted to make sure I removed the rust from the bathtub without damaging the fiberglass. Luckily I found an easy trick that worked great.
If you are tired of rust stains on your shower or bathtub look no further. Check out how to remove rust stains from the bathtub.
How To Remove Rust Stains From Bathtub
To remove the rust stains from your shower or bathtub you will need a few things. Some of the things you probably already have around the house, but you may need to pick up a few things too.
Items Needed To Remove Rust
vinegar (just the plain white vinegar)
electric scrubber or just an old toothbrush (I picked up mine on Amazon)
Microfiber Cloths (these cloths from Amazon are my favorites!)
Getting Started
You can see my rust stains on the shower below. It wasn't terrible, but I wanted to get rid of them.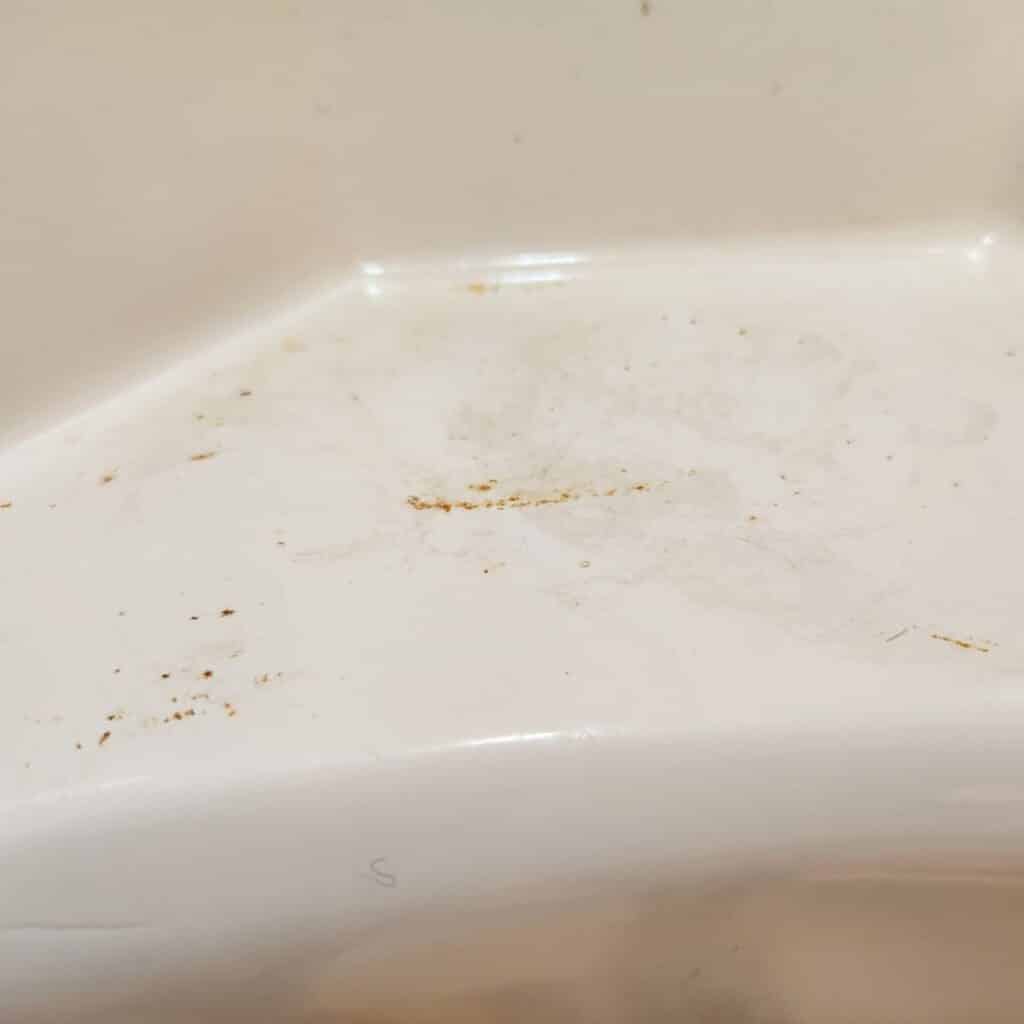 To start I recommend cleaning the tub or shower with some vinegar first. This works great to remove any hard water stains or limescale that are with the rust.
This will make it much easier to remove the rust from the bathtub.
Then, we can easily remove the rust.
Step 1: Spray all the areas that have rust stains with white vinegar. I always have some in a spray bottle to use, but you can also just use a microfiber cloth to spread it around.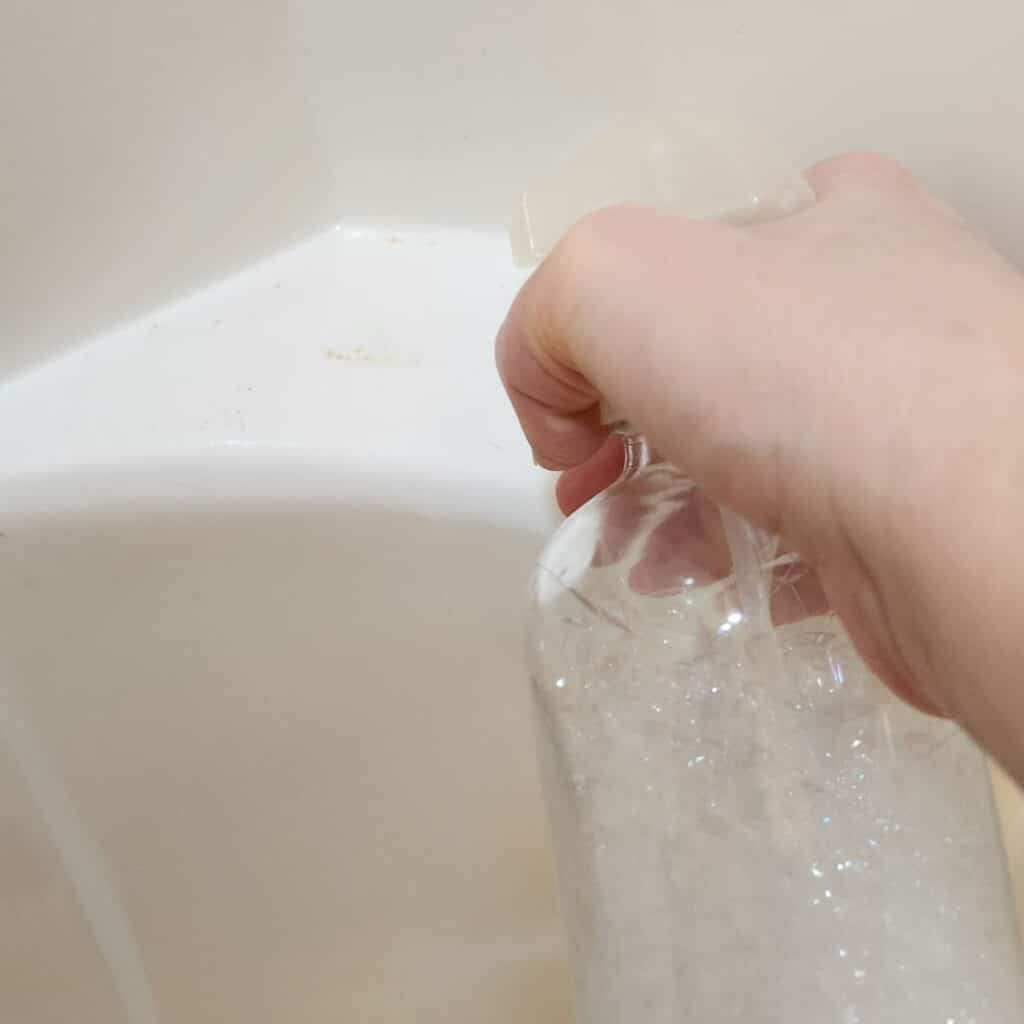 Step 2: Let the vinegar sit for 5-10 minutes on the rust stains.
Step 3: Rinse the vinegar completely from the stains.
Step 4: Using an old toothbrush or the scrubber brush apply a thin coat of the pink stuff to the rust stain.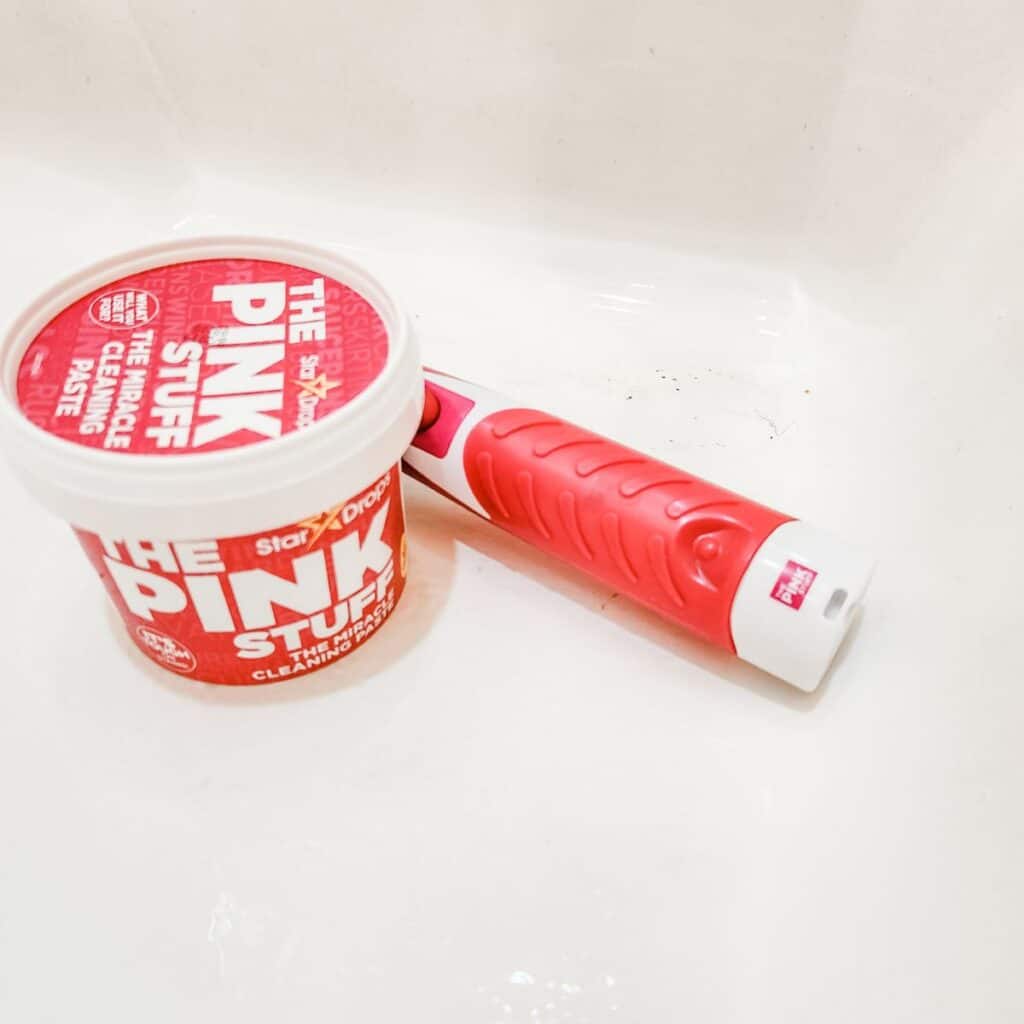 Step 5: Turn on the scrub brush and let it scrub over the rust stain area for a minute. You don't need to press hard, just let the brush scrub over the area.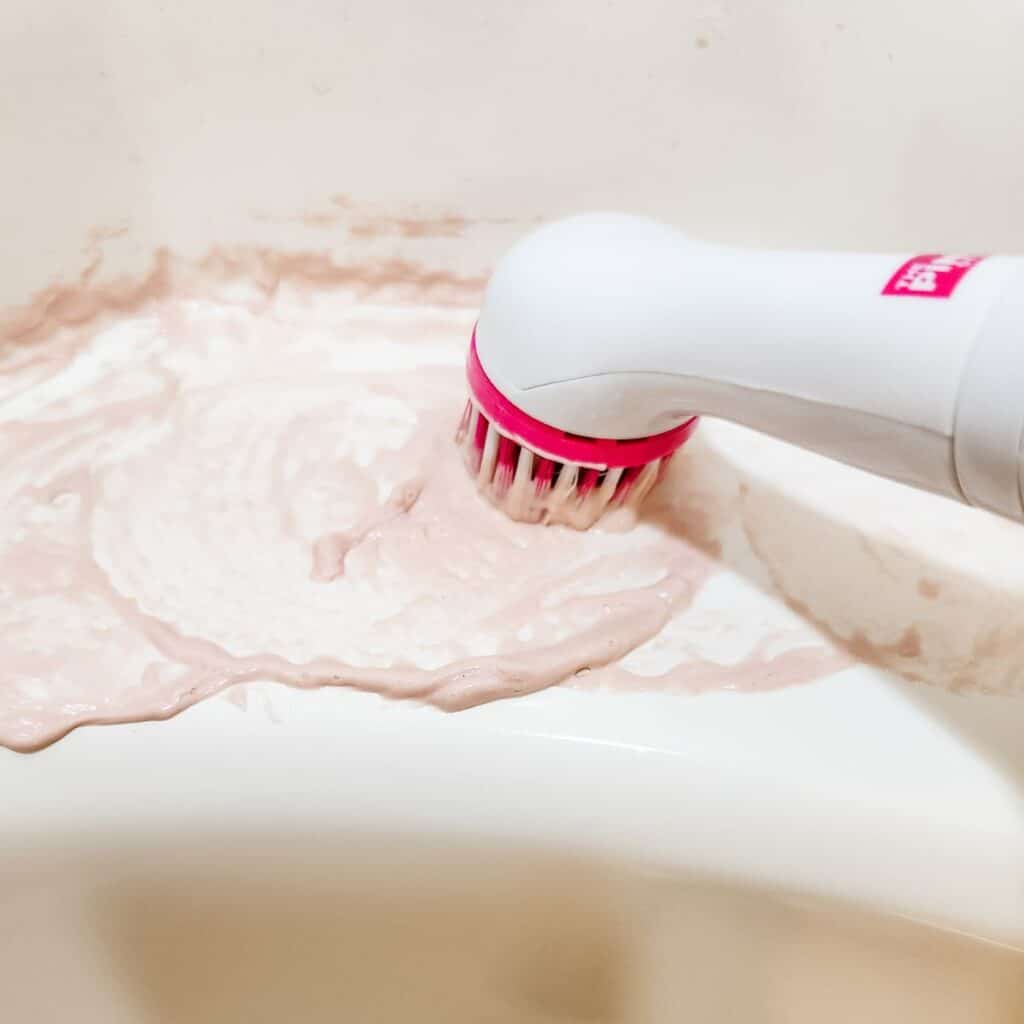 Step 6: Let the pink stuff sit on the rust spots for a few minutes.
Step 7: Turn on the scrub brush again and let it scrub over the rust stain for a minute.
Step 8: Use a damp microfiber cloth to clean off the pink stuff cleaner.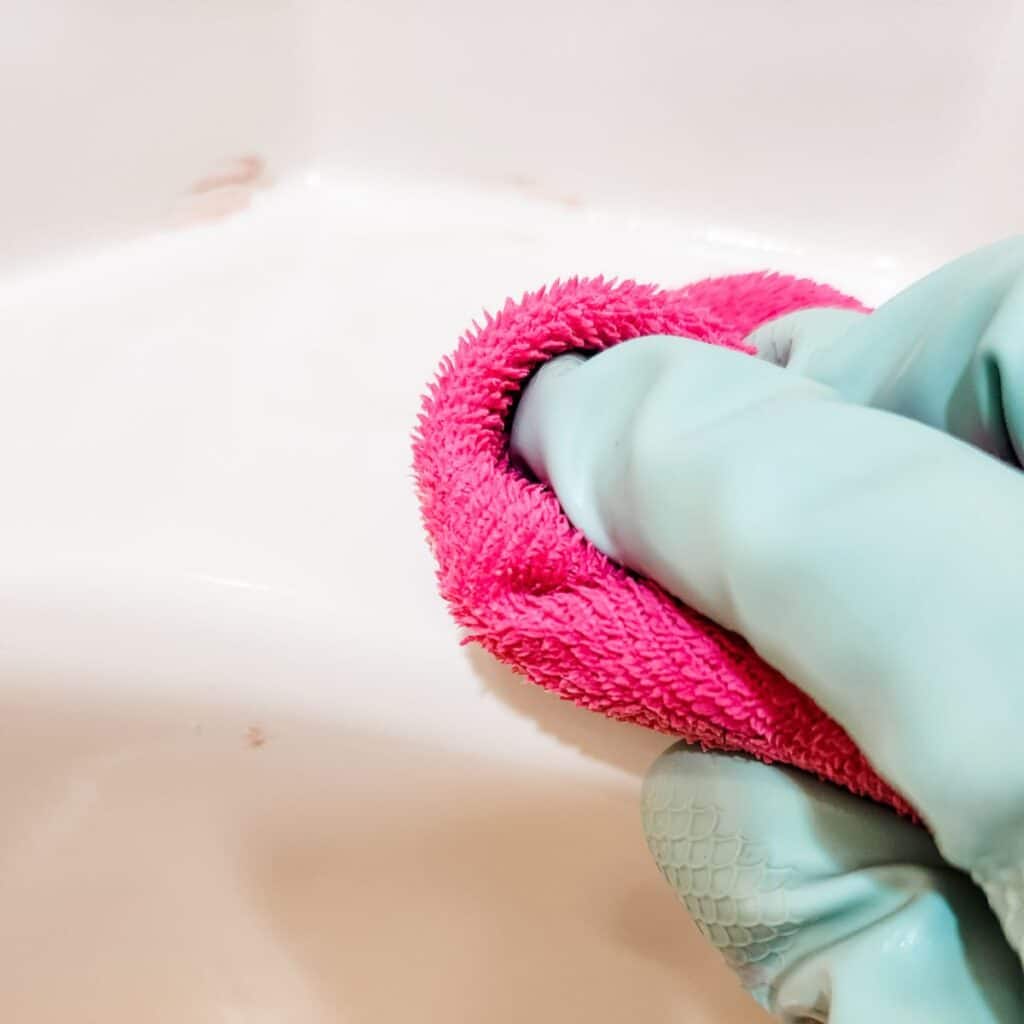 Step 9: Repeat if necessary. I only needed to do this once, but if you have a large rust stain you may need to follow these steps multiple times.
You can see below my rust stain is gone!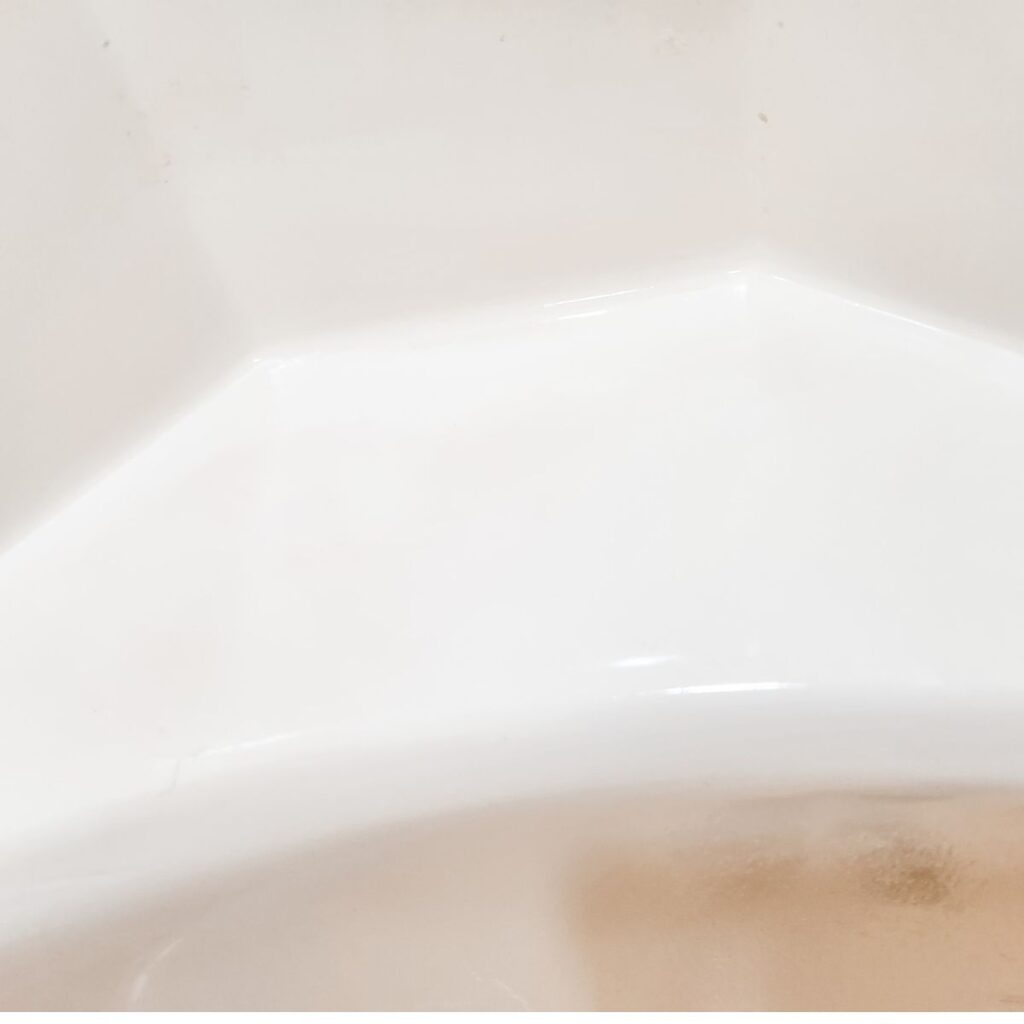 Helpful Hints
Testing- If you are concerned about damaging your bathtub surface I recommend trying in a small inconspicuous area first. Then, once you know it won't cause any damage you can use it everywhere.
Products To Use- If you don't have the pink stuff you can always try another product to clean it, I just really like how well the pink stuff cleans without scratching.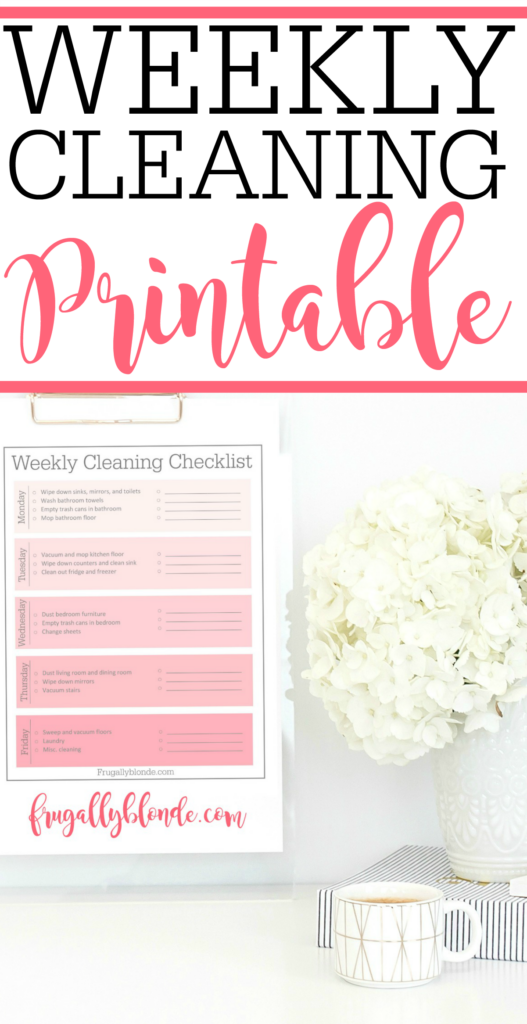 Free Weekly Cleaning Printable
Clean your home in under 30 minutes a day with this free Weekly Cleaning printable!
Common FAQs
Does vinegar dissolve rust?
Yes, vinegar can help to dissolve the rust in your bathtub. If you have a small stain it may be enough to get rid of the rust in your shower or bathtub.
Will this work on caulk or grout?
As always I recommend testing in a small spot but it should remove the rust from the grout also.