Sometimes despite my best intentions, the day gets away from me and I don't have dinner planned. I try to make sure I have freezer meals on hand, but it doesn't always happen.
A last-minute frantic call is placed to my husband of "I don't know what's for dinner". Then I can have him stop on the way home from work to pick up dinner.
Carry-out can be very expensive anywhere from $15-20 for our family. So, I love to have him stop by the store for fried chicken or a rotisserie chicken. They tend to be a fraction of the cost of carry-out and we can just make up some sides to go with it.
Around here I can get one at Kroger or Meijer for about $5. If you wait until later in the evening you can often find them marked down to $3.
The great thing about the rotisserie chicken is you can stretch the chicken into multiple meals. Fix a simple side with the chicken the first night and you can have dinner off the leftovers for a couple of nights to follow.
If you are needing a quick dinner check out these tips below.
Easy Meals With A Rotisserie Chicken
Most of these recipes can be made up in just a few minutes and make a fantastic frugal meal. So next time you think you need to overpay for carry-out just stop by the store and grab a rotisserie chicken for one of these meals.
QUICK TIP: If you don't feel like picking the rotisserie chicken apart look at your store for yesterday's chicken meat. Our grocery sells the rotisserie chicken meat removed from the bones for cheap. They are just trying to get rid of the rotisserie chicken from yesterday.
See a few of my favorite quick rotisserie chicken recipes below.
Rotisserie Chicken Salad
Use your cold rotisserie chicken to make up some quick chicken salad sandwiches. They are easy and your family will love them. You can do them for dinner or make up some for quick lunches.
My family loves chicken salad salad. ;). I make up a chicken salad and serve it on a bed of lettuce. It's easy and healthy.
Chicken Tortillas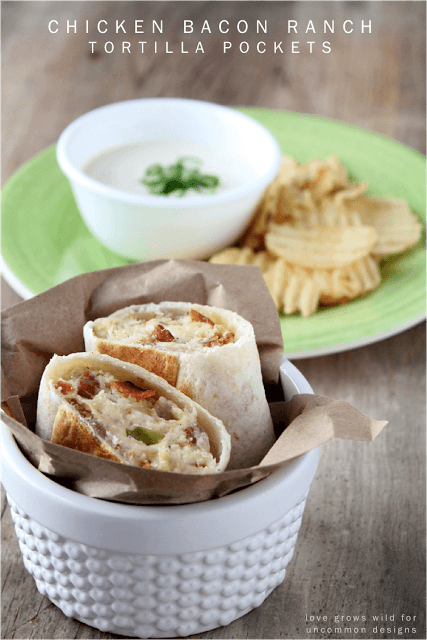 Looking for a hot meal to use up the rest of your rotisserie chicken? These chicken bacon ranch pockets are amazing!
Just a few minutes putting everything together and 20 minutes in the oven and you have dinner on the table.
This rotisserie chicken recipe is perfect for picky eaters because you can leave out anything they don't like.
Chicken Alfredo
I love pasta for a quick and cheap dinner. This creamy chicken alfredo completely delivers on the taste and an easy meal. Also, it only takes one pan which is a win-win!
This is a great dish to use when you have just a little bit of chicken left. Instead of putting in 2 cups of chicken I just put in whatever we have left.
Chicken Fajitas
I love getting fajitas at restaurants, but I hate how chewy my chicken breasts are at home. This chicken fajitas recipe I can actually handle. My chicken comes out great.
BBQ Chicken Sandwiches
The easiest of all the meals is to just make barbecue chicken sandwiches. Shred some of the chicken, add in your favorite barbecue sauce and serve on buns. It's a quick and easy meal.
Supreme Chicken Nachos
My whole family is crazy about nachos. They are so easy to customize and make a fun meal. Using rotisserie chicken makes these supreme chicken nachos so easy to make.
Healthy Chicken Chili
If you are looking for a good meal for cold weather this chicken chili will really warm you up. I love anything with avocados and this soup is no exception.
Chicken Quesadillas
Another quick and easy meal are quesadillas. Just take some tortillas, add shredded cheese, and chicken and you have an easy and quick meal. Just heat them up for a few minutes in the oven or microwave.
Southwest Chicken Salad
If you are looking for a healthy meal to use up the rest of your rotisserie chicken check out this southwest salad. Delicious and healthy, plus the dressing is amazing. Perfect for hot summer nights when you don't feel like cooking.
Chicken Fajita Wraps
I love easy meals and this chicken fajita wrap is easy and delicious. I love the addition of the corn to the wrap.
So next time you need dinner in a hurry skip the carry-out and grab a $5 rotisserie chicken. You will be able to feed your family for days cheaply and easily.
Lastly, you can use the carcass of the chicken to make delicious chicken stock. It is great for soups and stews.
If you have problems keeping a dinner schedule or finding the time to cook a meal membership can help save you money. $5 meal plan is great for busy families. For $5 a month you get access to weekly meal plans and recipes. Every Friday morning you get a shopping list and recipe cards delivered to your inbox. It makes planning your weekly meals a breeze.
Get my weekly meal planner
Subscribe (free!) to my newsletter and as an added bonus I will send you the weekly meal planner printable!