Tired of your kitchen looking cluttered? It seems like the kitchen is always the hardest room to keep clean. Papers get left on the counter, backpacks are left on the floor, and there is always dishes needing to be done. If you are like me, your kitchen will probably never be completely spotless, but it can be clutter free.
It is possible to organize your kitchen so that it doesn't attract all the clutter. If you are trying hard to keep your kitchen cleaned up check out these great tips for a clutter free kitchen.
Put Away Small Appliances
Growing up we kept all of our small appliances in the pantry. I never really thought anything of it. If I wanted to use the toaster I would get it out and then put it back up when I was done. My husband, however, thought this was so bizarre. Then, we bought our first house with a very small kitchen. If I would have kept the appliances on the counter I wouldn't have had any counter space.
If you are looking for a less cluttered kitchen I highly recommend starting by keeping the appliances in a pantry or cabinet. It makes a huge difference in the look of the kitchen! With one simple step, your kitchen can look less cluttered.
Remove Non-Kitchen Items
We all have those things that tend to work their way into the kitchen even though they don't belong. My kiddo loves to take his shoes off and leave them in the kitchen. The first thing my hubby does when he walks in the house is leave his briefcase in the kitchen. All of that extra stuff just makes your kitchen seem very cluttered. Find a place for everything outside the kitchen. Just getting rid of those non-kitchen items helps make your kitchen feel more spacious.
Have A To-Do Folder
Next to keeping the small appliances hidden this is the next easiest thing to do. I recommend having a small to-do folder that you keep in a cabinet. You can file paperwork, bills, or coupons in the to-do folder. It really keeps the counters looking nice and clean. I have found that if we don't have a folder we are way more likely to leave paperwork lying around on the kitchen counter.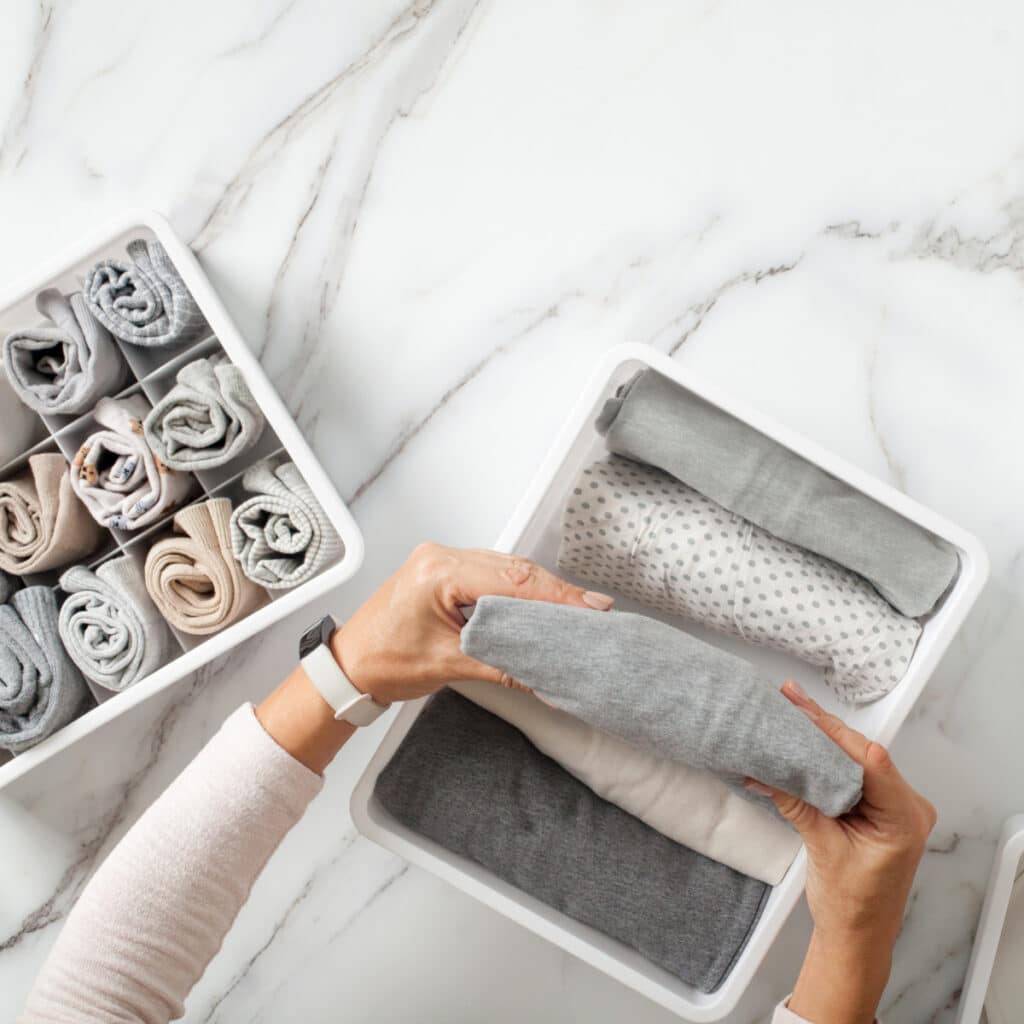 Tired of clutter?
Sign up for the free 7 day decluttering challenge. Create a clutter-free home you will love!
Keep Your Sink Clean
I picked up this tip from Flylady years ago and it makes a big difference. I try to clean the sink first thing in the morning and before I go to bed. I have found that if I keep a clean sink I (and my family) are more likely to put the dirty dishes in the dishwasher.
Keep A Junk Drawer
Keeping a junk drawer to put all the little odd and end items is very helpful. I like to keep pens and pencils, scissors, and tape in my junk drawer. Keeping one drawer for the miscellaneous items can keep all those things from spilling out onto your counter.
Get Rid Of Things You Don't Use
That pineapple corer you used once can probably be thrown out or donated. Get rid of the stuff you don't use so your kitchen is more organized and clutter free. So many things are rarely if ever used. Spend 1-2 hours going through all of your drawers and get rid of the things you don't use.
Organize Your Cabinets & Drawers
Keeping your cabinets and drawers organized can help keep the kitchen clutter free. I have found that spice racks, lazy susans, and lid organizers can really help keep the kitchen clean. I bought a spice rack drawer organizer a few years ago and I have found I am way more likely to put all the spices back when I am done cooking because of it. If everything has a place it is way easier to put things back and keep your kitchen free from clutter.
Sign Up For The Decluttering Challenge
Join over 5,000 people who have signed up for the free decluttering challenge. Each day for 7 days I will send you an email with some small decluttering tasks. It takes less than 30 minutes a day and will help you get your home clean and organized. Just head over here to get signed up.
With just a few minutes every day, you can keep your kitchen looking clean and clutter free. What tips do you have for a clutter free kitchen?