Inside: Trying to save more money? Check out the top things to stock up on in January to really save. It's an easy way to save more money without much work.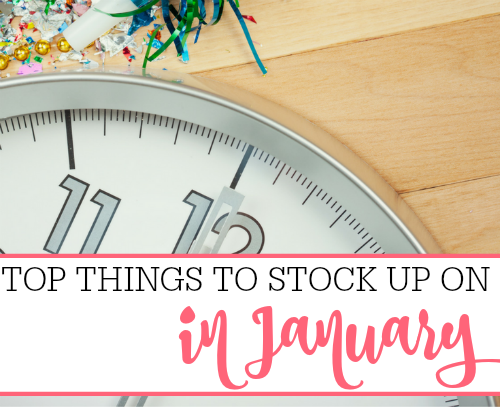 One of my favorite (and one of the easiest!) ways to save money is by stocking up on foods when the prices are at their lowest. I can buy foods for 50-60% of the regular prices. The best part about stocking up when things are on sale is that it doesn't take a lot of my time. Just stock up to really save money on your grocery bill.
I love finding Christmas clearance in early January. I usually buy most everything the day after Christmas, but I can sometimes find some really good deals in the beginning of January. I also love buying winter clearance. I know, it's still winter but stores tend to put those winter coats on clearance by the end of January. Buy the kiddos one size up in coats and gloves now to really save! Check out the top things to stock up on in January to save more money this year.
Seasonal Produce
January doesn't have much in the way of fresh fruit deals, but you can still get a few deals on some in-season produce. Look for apples, brussels sprouts, carrots, cauliflower, clementines, grapefruit, leeks, lemons, oranges, pomegranates, potatoes, spinach and tangerines to get the best prices on fruits and vegetables. Try to avoid the more expensive out of season fruits and vegetables to really stretch your grocery budget.
Diet and Breakfasts Foods
A new year means New Years Resolutions and making up for all that overeating during the Holidays. We will see sales of diet foods and diet bars in January. If you regularly eat diet bars or frozen diet meals (think weight watchers) now is the time to stock up. Buy a couple of months supply while prices are 50% off.
You can also get some fantastic deals on cereals and breakfast bars, too. My family loves breakfast bars as a quick snack or breakfast so I will often buy 20-30 boxes when I can get them for cheap in January. Under $1 a box is a great deal. It makes each breakfast bar around $.20 which is a good price for a snack. If your family likes cereal keep an eye out for deals on cereal around the middle of the month. With coupons you can pick up some fantastic cereal deals.
Cold & Flu Meds
It's cold and flu season and there are good sales because of it. Grab some cold medicine and vitamins when they are a great deal and you will have them if you get sick. The drug stores will often have some rewards on cold and flu meds to make them cheap or even sometimes free. If you pick them up now while they are on sale you can have them for when you get sick. It's perfect because driving to the store when you are sick is the last thing you want to be doing.
Oatmeal
January is National Oatmeal Month so we will see lots of great sales on Oatmeal. If you use oatmeal for cooking or like the packets you can stock up. The packets are great for a fast and filling breakfast.
Frozen Pizza
Toward the end of January, we will start seeing sales on frozen foods for the Super Bowl. There are always lots of great deals on frozen pizzas and other convenience snacks. If your family likes frozen pizzas it's a perfect time to really stock up. We have pizza every Saturday night for a quick and easy meal so I will often buy 8-12 frozen pizzas to last us for months.
Other Items
You will find fantastic deals on Christmas items. I always pick up my wrapping paper after Christmas when it's 50-75% off. You can save money by purchasing next years wrapping paper, boxes, and cards on clearance. You can also get great deals on cologne, bath sets, and perfume in January. Look for the holiday box sets on clearance.
Want to save even more money? Check out how I do my grocery shopping for under $50 a week. So save a little extra cash this year by stocking up when prices drop. What do you like to stock up on in January?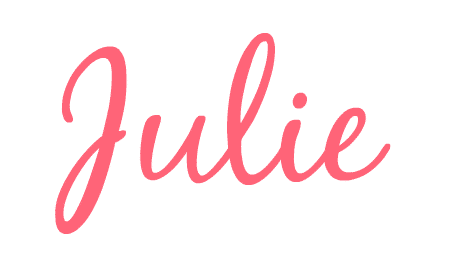 P.S. For more cleaning tricks and frugal tips delivered to your inbox subscribe
here!
---
Free Printable!
Subscribe (free!) to my newsletter as as an added bonus I will send you this free monthly guide of what to buy when.