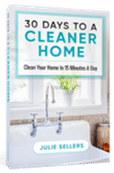 30 Days to a Cleaner Home is a simple cleaning challenge to help with those often missed cleaning areas of your home. This free ebook is filled with easy 15 minute challenges to do each day. It's a great guide to tackle cleaning your entire house, even the tasks we try to avoid.  Whether you are trying to get ready for a big event or just want to start a new routine this book can help.
At the end of 30 days, your home will be more organized and cleaner.
If you're ready to make a change then enter your e-mail in the box below to subscribe to my weekly updates and receive your FREE ebook!
Join the newsletter
Sign up to receive our free newsletter and a free 30 Days To A Cleaner Home ebook.